February 26, 2020 – Palm Beach Gardens, FL – The Business Development Board of Palm Beach County (BDB) is pleased to announce the expansion of Merchant Lynx Services, a leader in credit card processing, with more than 1,500 local merchants in Palm Beach County. The company currently employs 68 people at the Palm Beach Gardens Headquarters and plans to add 30 new jobs, acquire 50 agents, and hire 40 new contractors by the end of the year. Merchant Lynx has offices in New York, Boston, Chicago, Maryland, Orlando and Georgia, but continues to select Palm Beach County for its home base through multiple expansions over the years. The most recent move was into a 20,000 sq. ft. LEED certified facility in Palm Beach Gardens, which houses all departments to eliminate outsourcing and especially keep customer service in the US.
THE FACTS:
Located at 348 Hiatt Drive, 2nd Floor, Palm Beach Gardens, FL 33418
Adding 120 jobs to existing workforce of 68
20,000 sq. ft. corporate headquarters
1,500 merchants in Palm Beach County
Formed local partnerships with CareerSource and PBAU
Largest donator for Bahamas Relief and Toys for Tots
Family founded in 1996, built "one merchant at a time", Merchant Lynx invests in cutting-edge technology to serve its diverse customer base, from bodegas to theme parks, nutraceuticals, life science companies, and CBD Ecomm to name a few and more recently completed a $144 million conversion over 6 months serving a major cruise line. A unique, multi-million dollar company that President, John Kucyk, built on the principle of "keeping our word" and "old fashioned values", has shown that they walk the talk and operate by Mr. Kuyck's desire to do credit card business with integrity.
The most diverse of all is the workforce built under the stewardship of Chief Operating Officer, AJ Cross. The company has not only tapped into the local workforce, but has recruited military veterans; In fact, the company culture is being ranked as one of the "Best Places to Work" by Inc. Magazine and Glassdoor. In only two short years, employee satisfaction on Glassdoor moved from 2.5 to current 4.5 rating.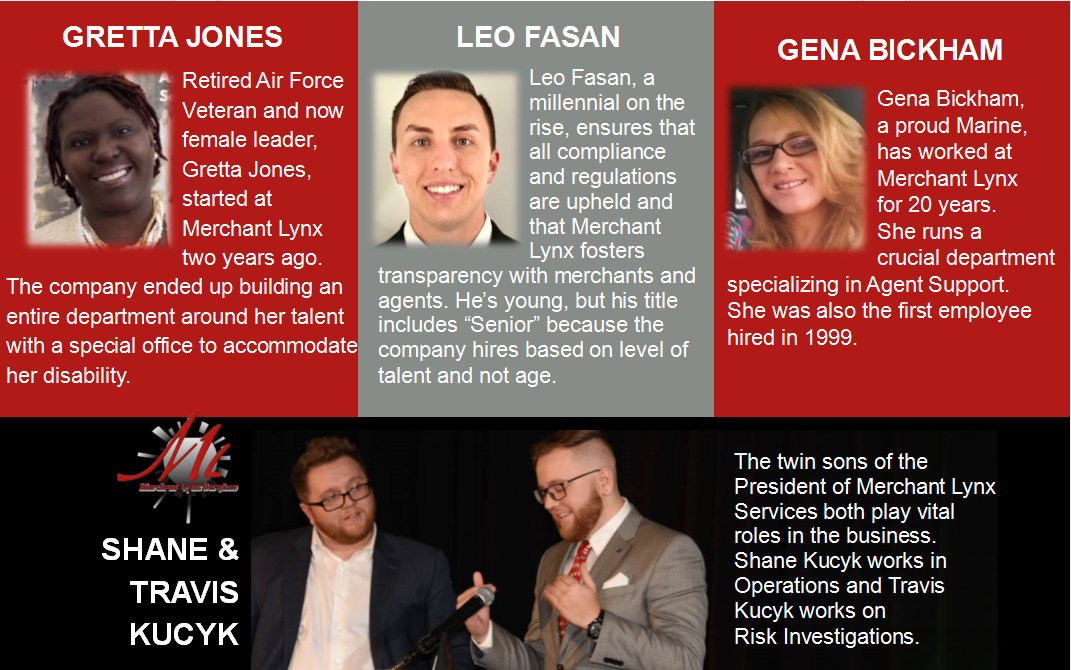 The Business Development Board connected Merchant Lynx with CareerSource Palm Beach County's Veteran program with plans to hire more in the future. The company was also connected with Palm Beach Atlantic University's Cinema Arts program, launching a new partnership to work with students at the corporate headquarters. Most importantly, the Business Development Board will assist Merchant Lynx with tapping into the local business community. The company has been the largest donor for "Toys for Tots" two years in a row, the largest contributor for Bahamas Hurricane Relief, and a sponsor for the Honda Classic.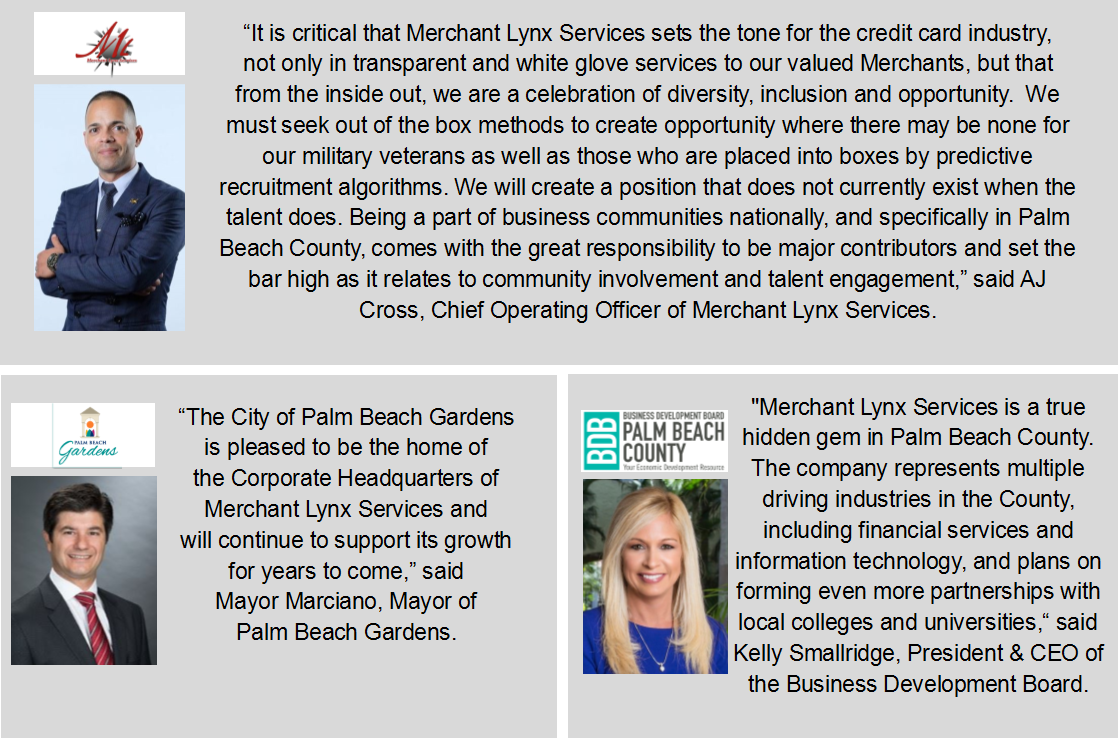 – BDB –
About Merchant Lynx Services: As a leader in credit card processing, Merchant Lynx Services strives to serve merchants with innovative services that meet our customers' evolving needs. At the same time, we understand that sustained success is about more than just providing great services.
About Business Development Board: The Business Development Board of Palm Beach County is the official public/private economic development organization for Palm Beach County and Enterprise Florida. Founded in 1982 as a not-for-profit corporation, our primary purpose is to attract and retain new industry, business investment, high quality jobs and workforce development through corporate relocations, expansions and international trade. During the past five years, the BDB has assisted companies that have created more than 12,822 direct jobs with average salaries greater than $69,062, resulting in more than $777 million in capital investment to Palm Beach County and an economic impact that exceeds $6.87 billion. Additional information can be found at the BDB's web site, BDB.org.